[KAI International Meeting 2017] Public Relations Request
2017-07-13 711
---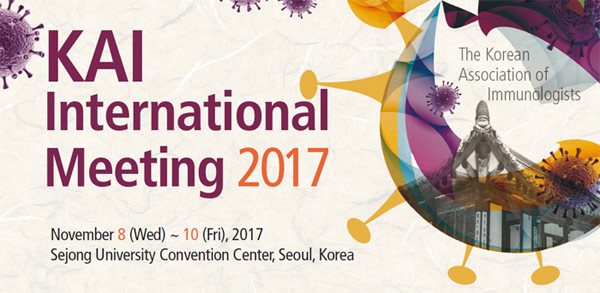 Dear. Chinese Society of Immunology, located in Taipei. (Taiwan),
Hello,
This is The Korean Association of Immunologists secretatiat.
We are honored to invite you to KAI International Meeting 2017.
Our official Homepage is now opened, you can check more details of KAI International Meeting 2017.
http://www.ksimm.or.kr/abstract/
For the successful meeting, we respectfully request you to promote 'KAI International Meeting 2017' to the related organizations and associations to attend our meeting which will be held on November 8 - 10, 2017 at Sejong University Convention Center, Seoul, Korea.
If it's possible, we will deeply appreciate posting our upcoming meeting information
on the homepage of the related organizations(associations) or offering the members to attend our meeting by e-mail.
If you have any questions or inquiries please feel free to contact the secretatiat by e-mail:

kai_office@ksimm.or.kr
We look forward to see you in November in Seoul, Korea.
Best regards,
The Korean Association of Immunologists





#File : 2017-28 poster.pdf
#File : 2017-28 Newsletters_web.html
#File : 2017-28 Newsletters_web.txt